Yes. It is true. Top Hat and Enchilada got to meet Peter Facinelli, Dr. Carlise Cullen, Saturday at our mall. He was there for the Red Cross blood drive.
We were estatic.
To say we died was an understatement.
A percentage of our lives has been completed.
We believe he is one of the nicest people to have graced the earth. Truly.
We arrived a little later after the doctor appeared, so we did not get the whole experience of him first entering, and shaking the sound barrier with all of the screams. So, our ears were saved.
We had called the mall before coming and asked just out of curiosity how many people were there, and it was estimated over two-thousand.
Upon arriving, we were greeted with a ridiculously long line that was mainly full of teenage girls and their mothers, with the occasional boyfriend being dragged along.
Due to the long wait, Peter would sometimes come down from his spot on the stage, and talk to the waiting fans in the line. We both got our hands touched due to this. (Top Hat's left, Enchilada's right hand. How ironic!)
We we
finally
were next in line, we were all nerves. Seeing someone in person is a completely different experience than seeing them on a screen. We do not believe we have ever seen anyone so beautiful in our lives. Enchilada was so nervous, she forgot how to talk. It was physically impossible for her to form words. When it was our turn to get and autograph and a picture, he came over and asked how we were, and what were our names. Top Hat had to do all of the talking. The memory is so vivid, that Top Hat remembers what it felt like to have his hand on her shoulder. We thanked him and walked off stage to wait in line for our picture to print. We both were shaking, and smiling so much it hurt.
Since all of this was for the Red Cross, an autograph was 25 dollars, and a picture was 40 dollars. It was absolutely worth it, and for a good cause.
We sincerely believe that Peter is one of the nicest people you could ever meet.
He even stayed, we think, a couple of hours later than he was supposed to. If you ever get the chance to meet him, you should.
Below are a couple of our pictures from the event.(Top Hat would like you to ignore her hair. Her flat iron just recently had a funeral, and she is on a quest to buy a new one. She is extremely distressed over this.) All the video's credit goes to erica111 on YouTube. She was at the event and recorded them. Thanks, erica.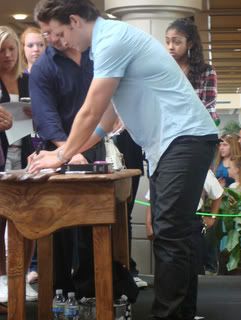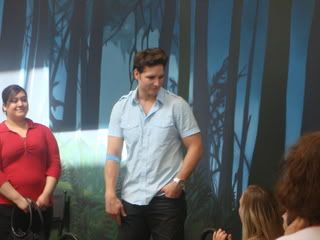 Peter's grand enterance.
Posted by: Top Hat and Enchilada, on August 17, 2009